Market research with a clear vision
market-i is your ideal partner for thoughtfully designed, meticulously executed market research with an international outlook. From project management to full service research consultancy, we offer services focused on actionability and tailored to your needs. What is more, unlike most specialist consultants or global companies, we provide our services at moderate prices.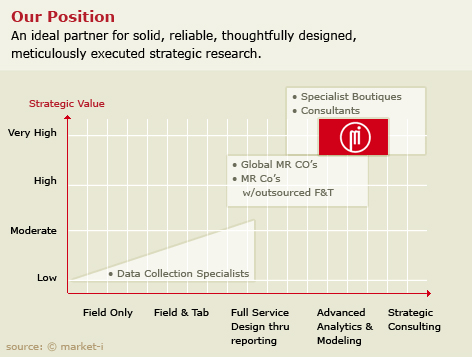 Over 30 years of experience - we have developed and fine-tuned business principles that are key to our success and your satisfaction.
International reach
With offices in Germany, United Arab Emirates, and USA, we conduct market research all over Europe, Asia, the Americas, Middle East and Africa. market-i is a member of ESOMAR, BVM and MRA.
For a map of our research services' global reach, please
click here
.
Cross-cultural competence
market-i boasts a staff with unique international research expertise. Our multicultural management team has undertaken projects the world over. We are particularly experienced in ensuring Western research standards while bringing intercultural sensitivity to markets in the Middle East and North Africa.
A comprehensive approach
A deep understanding of the intricacies of fieldwork and a high proficiency in both qualitative and quantitative methodologies inform the way we design and analyse market research.
Clients, the privilege of seniority
The senior director who manages your research projects is your primary point of contact. Your research is just too important to leave with less experienced or junior researchers.
Expertise-driven project management
The management of your research project is assigned to the senior director most knowledgeable in the respective business sector, regardless of where they reside in our network .
For an overview of the business sectors we service, pleaser refer
here
. Meet our staff
here
.